Woodworking is not an easy job. It requires talent to work with complete precision and great interest. Thus, to mitigate your woodworking projects, you need the best CNC machine. Meanwhile, it would help if you had the perfect tools to start your woodworking projects.
Then you can work professionally and get precise, smooth, and efficient results. This article provides detailed information about CNC for beginners.
The presented CNC machines for beginners are sturdy and well-built, with tons of valuable features. Moreover, they all come at reasonable prices and can handle all sorts of projects. Thus, you could cut any wood and other hard material.
Best Budget Wood CNC Machine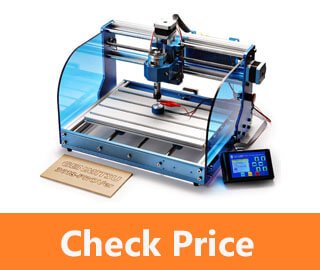 Sainsmart Genmitsu 3018 is a machine with a safe design and many useful features that make it very easy to work. It comes with pre-assembled parts so that the setting won't take much time. It may hardly take you 15 minutes.
The 3018 gives you a premium look and feel for your machine. Thus, it is a high-quality CNC machine with an all-aluminum body with an oxide blue look. This also provides stability to the machine. As a result, one can work without any disturbances.
Moreover, it runs on GRBL v1.1 software. That is why; you need this software to run this CNC router. For durability and longevity, this comes with optocouplers. That provides extra protection to the machine. Similarly, the Toshiba TB6S109 is another plus point.
On the top, it features an offline controller with 1.8 inches TFT LCD. Thus, you can view readouts clearly and control the CNC router without connecting to a computer. Plus, the sides have acrylic baffles. The lines prevent the dust from spreading around the machine. That is how one gets a cleaner working area. All in all, it is an excellent machine with suitable materials.
The Sintron CNC 3018 router machine is ideal for heavy-duty and long usage performance. Moreover, it has brought safety improvements to the adapter, with CE/FCC/UL-approved. Other than that, it has stable input/output even when you work for long hours or work with a laser module.
With an integrated mainboard and custom software, communication between the software and hardware is seamless by design. Besides that, it runs on GRBL, open-source software for high performance and controlling movement. Additionally, it is a great machine and is well worth the price.
This software's simplicity and dependability make it an industry standard. It is a versatile CNC machine ideal for cutting all sorts of plastics, soft aluminum, wood, acrylics, PVCs, and PCBs. Thus, no support and resources are available when you get stuck.
Shortly, you can use Sintron 3018 Pro on a wide range of projects and materials. As far as the assembly is concerned, it is easy, and the set comes with complete instructions. So, the assembly is easy, and the unit performs very well.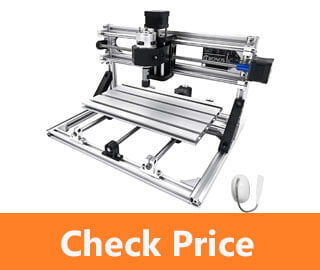 This versatile and highly flexible router machine can engrave wood, metals, stone, and other hard materials. Thus, any professional or hobbyist can rely on this machine as it works smoothly on any material.
It is a multi-purpose machine that comes with a compact and sturdy design. Plus, it has a 2020 aluminum profile and black injection molding material for long-term use and high precision.
With the working travel of 300(X) x180(Y) x45(Z) mm, this is well worth the purchase. Similarly, it comes with easy assembly. You can follow the instructions and assemble it. The software it uses is GRBL, and you can connect to computers with a USB port. The machine is compatible with Windows XP, win7, win8, and win10 (32/64). On the top, it provides convenient control with an ingenious GRBL control board. It also features a dual Y-axis, four-axis drive, and full functionality.
Additionally, you can use the machine to engrave all types of plastics, soft aluminum, acrylics, PVCs, PCBs, etc. plus, it comes with a 24V spindle motor with a rotational speed of 1,0000r/min. Thus, you can engrave various materials and get your required results.
As far as the weight is concerned, it weighs 17.1 pounds, making the machine stable on your workbench. As a result, you get smooth and accurate designs on the material. All in all, this is well worth the purchase and is a good value for the money.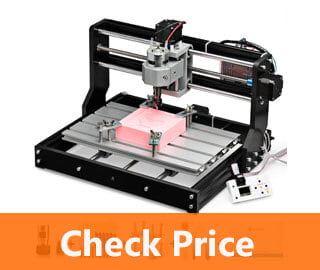 This CNC machine is the best and is well worth the purchase. It has solid and sturdy construction making input/output stable even when working for a long time. It comes with an integrated mainboard and custom software.
Thus, the communication between software and hardware is seamless by design. Additionally, Genmitsu uses GRBL software that performs well and is open-source software.
Besides that, it offers a 300 x 180 x 45mm working area that fits the desktop well. Similarly, it has easy assembly and also provides an assembly kit. Therefore, you won't face any difficulty in this regard.
The bonus is its compatibility with plastics, soft aluminum, woods, acrylics, PVCs, and PCBs, with an adequate engraving depth of 1.8 inches. Plus, it comes with an offline controller; you can manually adjust X, Y, and Z-axis without connecting to the computer and downloading files.
CNC Wood Carving Machine | Guide
There are many CNC machines available on the market today. Each machine has its properties and valuable features. Likewise, they also vary in price, size, working area, compatibility, and other similar traits.
While getting the best CNC machine for Beginners, you, therefore, need to consider some crucial factors. You should not overlook these features if you want precise and smooth results. Let us have a look at what those factors are;
1. Durability
Durability is one of the most critical factors you need to consider. You should invest in something sturdy and well-built. Likewise, the CNC machine you purchase should be reliable and durable enough to serve for years.
2. Material
The material is another important quality that one cannot ignore. Most CNC machines are made of aluminum, providing longevity to the product. Moreover, the machine should be stable enough to withstand workplace accidents. So, the material of the machine also tells you how long it will last.
3. Compatibility
Compatibility is also essential, and you should not ignore this factor. Most of the machines come with GRBL software that is compatible with most operating systems. However, there is some other software as well. It depends on you to decide which machine you need keeping the software in mind. So, make sure you have the OS to run the machine.
4. Work Space
The workspace is an important thing to be considered. Ensure you assess the router machine in terms of length, width, length, and height. Moreover, it also depends on the project requirements. Thus, you need to see if you need a large, medium, or small working area. Buying a device more significant than the required size would serve in the long run.
Frequently Asked Questions
What is The Best CNC Machine For Beginners?
Well, some of the best CNC machines for beginners are as follows;
1. Sainsmart CNC Machine
2. Sintron CNC Machine
3. Vevor CNC Machine
4. Genmitsu CNC Pro
What is The Most Accessible CNC Software To Use?
There is software that supports CNC machining. However, these are some of the most accessible CNC software to use;
Rhino3D
AutoCAD
SolidWorks
Fusion 360
And SketchList3D
Are Our CNC Routers Worth it?
For sure, they are. CNC machines are the best in providing accurate cutting carves. Likewise, you would be much more efficient and quick on your table saw. Thus, they efficiently cut various materials and are well worth the purchase.
Is CNC Easy To Learn?
Yes, fundamental CNC programming is easy to learn. However, you need to know some basic math and have a command of how the machine works. It might hardly take you some days to learn it. Advanced CNC programming might take several years, but for the intermediate one, a year is enough.
Conclusion
The best C and C machine for wood would help you get precise results without losing much material. Therefore, I suggest you purchase the CNC machine to make your job easier and smoother.
The CNC mentioned above provides high repeatability and accuracy. Thus, you can purchase any of these Small CNC machines while keeping your requirements in mind. They all come at affordable prices and can be ideal ones to buy.