I believe that bowl gouge is one of the essential things of woodturning tools. A must-have tool in every woodturning kit is one best bowl gouges. It would be best if you had a perfect bowl gouge, whether a professional or an amateur. Owning the right tool will always make the job/hobby easier.
Similarly, an essential thing that matters is to choose the best bowl gouge for you. The bowl gouges come in various sizes and shapes. However, it depends on your needs and requirement which one you need.
You need the best tool to get there to perform any job well. So, getting the best and smooth cuts for bowls is now easier. Since we have listed all the standard and well-made bowl gouges available on the market today.
Best Bowl Gouges For Wood Turning
The Hurricane has set its reputation as one of the best tool manufacturers. As a beginner, this set contains all the tools you require. The set contains three separate bowl gouges to make your bowl turning easier. The tools are made from high-speed steel, ensuring an eight times greater expected life than carbon steel. That is why this set is known for its longevity and durability.
Having sharp edges, the three bowl gouges are perfect for even the most challenging projects. The sizes, however, vary, providing flexibility for various sorts of woodworking. The 1/2″ flute (5/8″ shank), 1/4″ flute (3/8″ shank), and 3/8″ flute (1/2″ shank) are the tools with their sizes. Moreover, the tools come with perfect handles. The handles allow a firm grip and are preferably long.
Here comes this carbide lathe tool ideal for users of all skill levels. Woodturning is no more a difficult task. This set of tools makes your job easier and much more enjoyable. You don't need to focus on sharpening techniques, as the tools let you focus on the project better. As far as the sharpness is concerned, the tools all have a rotatable carbide cutter and are pretty sharp.
So, you can use the simple turner and hollower. Using this particular tool, you can quickly turn and hollow to the desired shape. Similarly, the set contains the simple rougher carbide tool that allows smooth roughing. With its simple detailer, you can increase your woodturning creativity.
Speaking of its handle, the handle is made of premium quality solid aluminum. Featuring a soft, comfortable foam rubber grip, the tool allows you to avoid hand cramping. Likewise, it provides enough stability and grip during long turning sessions.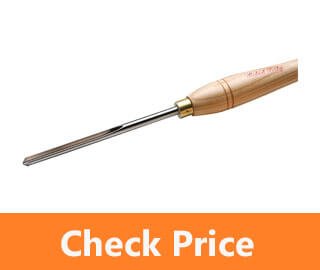 On the off chance that you want a 1/2 moderate-sized bowl gouge, then this tool from Sorby is especially for you. This tool is made of high-speed steel that provides a six times longer life than carbon steel. This would be enough for sharpening, finishing, and other bowl cuts.
Coming with a hard white ash handle and brass ferrule, this would make a perfect choice for woodturners. Additionally, the bowl gouge has a sharp edge. The 14 inches long handle is also well made, permitting full grip over the bowl gouge. Shortly, this tool has the quality to tackle all sorts of tasks. It is a quality-made and durable tool, making bowl gouging much more enjoyable.
This simple set of carbide woodturning tools makes your woodturning job easier. The shear-cutting finishes provide an incredible surface finish. Similarly, the ½ round saucer-shaped carbide shear cutter removes pain and downtime of sharpening. The tool cuts perfectly well. Moreover, you would find it super sharp and easy to use.
As far as the handle is concerned, it comes with an overall length of 24 inches. The handle features a grippy rubber golf grip which provides enough stability. Likewise, the handle is durable and nicely made.
The tools provide enough help that you don't need to rely on all the expensive turning equipment. It also removes the pain of learning special techniques to turn. Overall, this carbide-tipped tool comes with sturdy and solid construction. The tools thus last for years and are the best regarding their durability.
The Hurricane brand has been known for its tools for years. This set contains three pieces of bowl gouges to make it an ideal setting. Anyone new to woodturning and wants a set with all essential tools may rely on this set. The set contains a 1/2″ flute, a 1/4″ flute, and a 3/8″ flute. Bowl gouges of various sizes make it possible to perform different woodturning tasks.
Durability is another quality of these tools. They are made from high-speed steel that adds longevity to the tools. Moreover, the tools come with right edges, and it is easy to maintain the sharpness for years.
With the 16 inches ash handle, this set is all you need. The handles provide a firm grip over the tools. The tools are heavy and solid with maximum durability. In short, this is the perfect setting for woodturners.
The 5/8 bowl gouges from Carter & Son come with large-sized tools making the work process more enjoyable. With an overall length of 26-1/4″, the massive tools are easy to use and cut sharp.
The tools are made from High-Speed Steel which makes them durable. However, the tool is made to provide excellent longevity and durability. At the same time, the blade is backed by 16 inches of aircraft aluminum handle to provide enough stability.
The tool is perfect for woodturning of any kind. The tools allow precision and excellent cutting due to their fine edges. The edges can be sharpened on and off. The handle is also long enough to provide maximum grip. Likewise, the tools are easy to use and maintain.
With an overall length of 26 inches, this is an extremely nice set of tools on the market. The tools are made from high-speed steel that allows enough durability. Similarly, it has a sharp edge and a more extraordinary life than carbon steel. The set is thus ideal for all sorts of shaping bowls, cutting, finishing, etc.
The unit also comes with an easy grip and a perfect handle. The handle is comfortable enough to hold. The handle's overall length is 17 inches, which is quite a good size. In short, this is a complete package ideal for all sorts of woodturning.
Sorby products are all known for their performance and quality. If you want simple and easy-to-use turning tools, then the Sorby 3/8 inches is the perfect product. All sorts of fine cutting and delicate shaping are possible with this tool.
The tools hold an edge, thus providing finer turnings and excellent finishes. With the tools, you can work having comfortable and reliable bowl turning. Furthermore, the handles are long enough to make turning more accessible and comfortable. High-speed steel makes the tools six times more durable than carbon steel.
If you want a bowl gouge idea for massive profiling cuts or excellent finishing cuts, then the Robert Sorby H9076 is all you need. The tool is made from high-speed steel that provides full years of life. With an overall length of 16.5 inches, the tool is a must for making ideal bowls.
Speaking of the handle, the handle provides a firm grip, making turning easier. The ash handle also adds to the aesthetic side of the tool. Similarly, this holds an edge much better than many of its competitors. It is a great bowl gouge with much sturdiness and is exactly worth the price.
Quality Bowl Gouge Buyer's Guide
There are various bowl gouges available on the market today. Likewise, different brands offer different bowl gouges. Both professionals and hobbyists want the best bowl gouge to make their work easier. However, based on requirements and preferences, you would always opt for one, but to make your buying process more accessible, in this article, we will guide you on how to select the best bowl gouge for you:
1. The Size and Shape
The size and shape of the bowl gouges are significant to check for. Well, it depends on your expertise as to which one you need. The standard flute widths are 1/2″, 3/8″, 5/8″, and 3/4″. As a beginner, a bowl gouge with a size of ½ would be enough for your job. Later, you can opt for other sizes based on your needs.
Similarly, the shape of the flute is also necessary to get the perfect cut. The standard shapes are Deep V-shapes, Deep U-shapes, Shorter U-shapes, and more. The correct shape of the bowl gouge is also necessary to get a perfect and smooth cut.
2. The Material
The material of the bowl gouges is one of the most things to consider. You want to invest in something that lasts longer. That is why you ought to check the material of a bowl gouge. The bowl gouges made from High-Speed Steel are mostly more durable than carbon steel. The HSS is durable, with the ability to stand at high temperatures.
3. The Handle
This is another essential thing that matters. The handle allows fine turning with professional outcomes. Therefore, the larger the handle, the better. This, somehow, helps you in keeping balance. Likewise, the handles made from hardwood metal are ideal.
FAQ
What Angle Should a Bowl Gouge be?
Well, there is not any set angle for it. It depends on how you use it. The experts' angle is primarily within the 45 to 70 degrees range.
What Is a Fingernail Bowl Gouge?
Fingernail is a grind, and bowl gouge is the tool. However, the fingernail shape allows greater flexibility. Thus, the woodturner better performs the pull cuts. People also call it Ellsworth.
Conclusion
So, the best bowl gouges and carbide bowl gouges have been listed here in this article. The best bowl gouges must be durable, and the blades must maintain edges over a long period. Likewise, bowl gouges with outstanding performance are all you need.