6 Best Router Plates in 2022 – Reviews & Buying Guide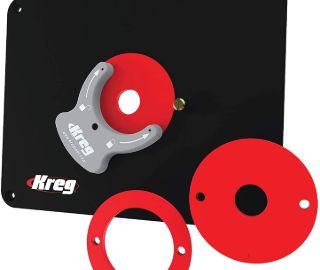 For woodworkers, getting a wood router could be quite interesting. This allows one to carry out all the necessary pending projects. Those who want to enjoy smooth operations. They need to buy every single item that is necessary to purchase with the router table. Interestingly, it seems quite practical to purchase the best router plate or the best router table inserts plate. They are also known as mounting plates.
Woodworking is not an easy job. It requires patience, time, and effort. Likewise, the right tools would make it easier for you to get the précised designs and perfect outcomes. To make the job interesting and enjoyable, one needs to have the Best Router Table Insert Plate along with the router tables.
The Router Table Insert Plate helps in having a grip over the project. It maintains better control and provides stability to your project. Getting the best router table insert for your woodworking projects is very important. Keeping the durability, ease of use, and quality in mind, we have listed here the most standard and demanding router table insert plates.
Best Router Plates
| | | | |
| --- | --- | --- | --- |
| | | | |
| | | | |
| | | | |
| | | | |
| | | | |
| | | | |
| | | | |
The KREG router table insert plate allows getting a solid, flat, and perfectly level mounting surface for your router. It accepts any router easily and measures 9 1/4″ x 11 3/4″ (235mm x 298mm). Moreover, mounting the router to this plate is quick and simple. It doesn't feature unnecessary extra pre-drilled mounting holes.
Additionally, it features three-level Loc reducing rings. The three-level Loc reducing rings include; 1″ (25mm), 1 3/16″ (30mm) for use with universal-style guide bushings, and 2 5/8″ (67mm).
Most importantly, the router table insert is available in three versions. Based on your requirements and needs, one can choose their favorite version. These three different versions include; an undrilled plate that comes without any mounting holes. Secondly, the predrilled version for Triton features pre-drilled holes that easily fit Triton M0F001 and TRA001 Routers.
Lastly, there is another version that comes predrilled and fits porter cable and Bosch. It comes with predrilled holes and mounting hardware that is best with the Porter-Cable 690 and 890 Series, along with the Bosch 1617. Overall, it is easy to install and is well worth the price.
The Rousseau 2509 is a versatile insert plate. The plate can be used as a freehand tool and luckily on the heaviest routers. It is a great router plate that is both nice and solid. Most importantly, it features a bunch of various bolts and leveling hardware. This presents you with different ways to drip this into a table and level it.
Likewise, the Rousseau 3509 insert plate has a separate set of rings. The rings can be used with a variety of bit diameters. Creating a 4 inches opening is ideal to fit with the base plate. Moreover, 3 more opening sizes are measuring 1-1/4″, 2-5/8″ to 3-7/8″. This shows how versatile this router base plate is.
Luckily, this also allows free-hand routing. For this, it offers a shoulder pin that is about 1 inch tall. It also includes a total of 4 corners snugger. These snugger are there for providing additional support. With its unique leveling system, this product is well worth every single penny. Shortly, it is easy to use and install (not to mention, the product is sturdy and durable).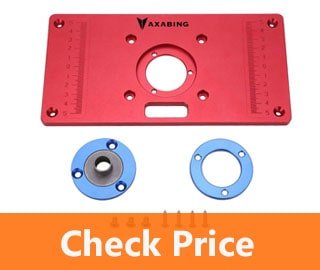 A multi-function insert plate sounds like a plan. Here comes this multi-function insert plate that is ideal for making its boring and milling table. If you need high-precision woodworking, then this is for you. You would find it easy and efficient in its operation. Moreover, it would save effort and expand the use of the trimming machine at the same time.
Made of red aluminum alloy, this router plate insert is durable and long-lasting. As a bonus, it doesn't rust and will serve you several years of useful life. As far as installation is concerned, the convenient center hole bushing aligns the router so that it can center on the drill hole. Thus, drill and install the router easily and perfectly.
You can use this router table insert plate in general electric routers. Overall, the package includes 1x complete flip chipboard; 2x circular positioning rings; and 1x stainless steel 5/8 bushing. All in all, it is easy to use and install. You can invest in this product. It is worth every single penny.
Here comes this amazing product for securely mounting your router to the table. With this router plate, you can now do your woodworking job easily and with much precision. Thanks to the strong and stiff material, made from cast precision machined aluminum, this is the perfect choice for smooth work.
If you need an aluminum plate router for Triton models JOF-001, MOF-001, TRC-001, and TRA-001 Routers, this is the perfect choice for you. It provides easy and exact leveling. Thanks to the 8 top accessible fine-pitches leveling set screws.
Moreover, a pair of adjustable edge plungers enables you to eliminate any slop between the router plate and the plate opening. Amazingly, the package includes multiple starting pin locations and 3 Twist-Lock rings, and a locking wrench included with each router plate. This is easy to install and use. Overall, it is well worth the price.
From its construction to its appearance, and its functionality, this is the best router plate for mounting. It includes everything one needs for the securely mounting router to the table. Nothing can ever come close to the compatibility of this router plate. It is almost compatible with any router in the market available.
This heavy-duty router plate is 3/8 inches thick, made of phenolic plastic; is the perfect thing for any woodworker. The router plate features two removable rings and produces three numerous bit openings. This would support any basic router.
Other than these, it features a steel starting pin which is best for carving wood pieces. It also comes with 9-1/32″x12-3/32″ pre-drilled mounting holes, magnets, and adjustable screws. As far as installation is concerned, it is very easy to install and use. It is well worth the money.
If you want something without investing much then this is for you. This router plate doesn't cost you much. The set includes spring rings for small cutters. It provides one with various hole opening sizes.
Additionally, the bit sizes of the rings are; 1 – 1/4″, 2 – 5/8″, and 3 – 7/8″. The 1-1/4″ is ideal for brass guide bushings or smaller cutters (red ring). Likewise, the 2-5/8″ is perfect for medium size cutters (yellow ring), and lastly, the 3-7/8″ inches are ideal for large raised panel cutters (plate opening with no rings inserted).
Thankfully, it is very user-friendly and is compatible with porter cable routers and its class. The feature that makes it stand out among other routers is its capability of dealing with heavy-duty routers with precision. Overall, the set includes; 1 Plate, 2 Snap Out Rings, 1 Shoulder Pin, 3 Cam Action Adjusters, 1 Allen Wrench, 3 Screws with Star Washers, and 4 Magnets. It is a reasonably adequate set for the price.
Factors To Consider Before Buying The Best Router Plate
Getting the best router plate is the priority of every single buyer who is related to woodworking. Of all the essential tools necessary for woodworking, the router plate is one. Generally, people often get confused when it comes to selecting the best router plate for them.
There are many specifications and features necessary for mounting the router. Likewise, people often are concerned about the durability and longevity factors as well. In this guide, we are going to discuss some of the most important features you need to look for while buying the best router plate for you;
1. Performance
One typically invests in router table inset plate to get précised and accurate results. The best router table insert plate removes the need for investing in lift devices. Thus, a good router plate aims in providing control, grip, and stability on the project. Without it, your job could be quite challenging.
Thus, you need the best router plate to keep your router in position and stable. So, the basic aim of buying a plate lies behind its performance. The router plate should be fully functional and perform what it is intended to perform. It should not disappoint you in terms of efficiency. The above-listed products are best in terms of their performance and efficiency.
2. Material
There are many router plates available on the market today. Each of them varies in terms of material used. You would see that some are made of aluminum, while others are made from high-pressure plastic. Your aim behind purchasing one is long-term performance and durability.
Therefore, invest in ones that easily withstand heavy-duty projects and easily accommodate heavy routers. So, it is better to consider the material of the router plate while buying one. The ones made of aluminum are typically more durable and long-lasting.
3. Added Features
The best router plate is one that offers as many features as possible. This could be for your convenience and ease of use. However, the ones that feature shoulder pins provide easier handwork. Likewise, there are many other additional features that you should look for in a router table insert plate. This would make your purchase well worth the price.
Best Router Table Insert Plate FAQS:
Do I need a router table insert?
Well, you don't need a router plate as a necessity but it provides stability to your work. So, buying one would not be bad. You can bolt the router straight to the top. It would work fine in that way also. In case, you want perfect cut and précised work, then you need a router table insert plate.
How thick should a router table be?
The router plates should at least be about 3/8 inches thick.
Conclusion
The above-mentioned router plates are some of the best-selling router plates. Using them, you would elevate your woodworking skills. The job would be done in précised and accurate manner onwards. So, investing in a router plate would be well worth every penny.