Best Carbide Tipped Woodturning Tools / Chisels in 2022
Best Carbide Tipped woodturning tools are a must for every woodworker. The plus point about carbide woodturning tools is that they stay sharp for a longer time. With the tools, it is now much easier to shape and turn wood, etc. it is possible to make sophisticated showpieces and vases, etc. if you use the right set of tools.
Moreover, they don't demand frequent re-sharpening. You only need to rotate the tip towards the sharper side and you are done. On the top, you would be able to create beautiful masterpieces. So, both your professionalism and the right set of tools are required to create a masterpiece.
Finally, to make your project a big success, we have listed high-quality and the best Carbide Tipped woodturning tools here.
Carbide Tipped Woodturning Tools
| | | | |
| --- | --- | --- | --- |
| | | | |
| | | | |
| | | | |
| | | | |
| | | | |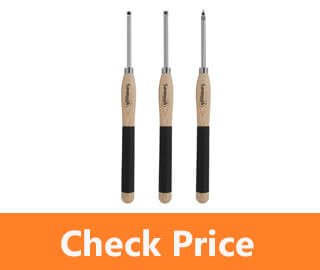 Let's make your task easier with the set of Savannah Caribe turning tools. They are designed to keep your ease of use in mind. Moreover, the tools are ideal for any skill level. To ensure success right from the scratch, you need this amazing set of woodturning tools.
Plus, they don't need frequent re-sharpening as they feature a rotatable cutter head. Just rotate the cutter for a cleaner and sharper edge. This is how you would be able to continue turning without any interruption.
On the top, they remain sharper for a long period. Luckily, you can always replace the one the carbide cutter is used completely. Most notably, these make your turning work more enjoyable since it features a flat back for stability.
As far as the handle is concerned, it features a solid wood ash handle. In addition, the handle is coated with a comfortable rubber grip on the base. It transitions the wooden top part of the handle seamlessly.
Since the handle features a rubber grip, so the hands don't get tired while turning. The handle length is approximately 13-1/2" from the end to the stainless steel ferrule.
Overall, the set includes a Large Round (# 7537), Square (# 7538), and Diamond (# 7539) cutter tools each measuring appx. 6-9/16", 6-9/16″, and 6-5/8″ from the tip of the cutter to the ferrule
If you are in search of both full-sized and mini-sets, then this set is for you. The tools are very well-made and easy to use for beginners. When driven hard, the tools easily remove the material. So, they are reliable in getting smooth and shallow cuts. You don't need to sharpen them frequently. As they get dull, just rotate the sides as the tools feature multiple sides.
In the first place, they remain sharper for a longer period of a tie as compared to steel. Similarly, the replacement is also very cheap. Just for $15, you can get the replacements for it. I believe, they are the highest quality lather woodturning tools.
The tools have been designed and manufactured in the USA. Coming towards the handle, it features a 16 inches maple handle; an 8.5" by 1/2" square CNC machined stainless steel bar; and a 24.5" overall length. The handles are comfortable and have a solid grip. One feels enough comfort while holding them.
As a result, they would be able to do turning without any hurdles. All in all, the tools greatly simplify the learning curve when turning. There are no complicated angles to learn and remember.
Here is another easy-to-use carbide woodturning tool set. The set includes the highest quality lathe woodturning tools. The tools are 100% designed and manufactured in the USA. As far as the cutters are concerned, they have multiple sharp sides. So, you don't need to sharpen them again and again.
Moreover, they stay sharper for a longer time as compared to steel. Similarly, when they get dull, the tools accept specially designed propriety replacement carbide cutters. On the top, they feature a 9 inches maple handle; a 3.5" by 3/8" square CNC machined stainless steel bar, and a 12.5" overall length. The handles are easy to handle and come with a comfortable grip. You don't feel any inconvenience while holding them and doing the task. Thus, you get your job done with full ease and convenience.
All in all, they come sharp and are ready to be used. Beginners, who don't know how to sharpen tools, can rely on this wonderful set. They are very easy to use and make your first attempt good. The tools cut clean and smooth without catches.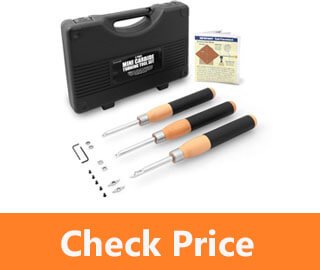 Having the right tools for turning tools is a must. Therefore, we discuss here the Savannah 3-piece carbide mini-turning toolset. In the first place, the tools make your task much more enjoyable. Getting the right angles will further make the results more desirable.
With this set, you can remove the inconvenience of sharpening the turning tool. Similarly, with the flat bottom bars on each tool, you can easily turn most types of projects. On the top, if your cutter gets dull, simply loosen the cutter screw. Rotate the tip and secure a fresh and sharp cutting edge. Other than that, the cutters stay sharper for a long time. For your ease, the cutters are replaceable.
In this set, you will get two of each cutter style and extra screws also. Consequently, you get much cleaner cuts and the tools are easier to use as compared to any other standard turning tools. As far as handles are concerned, each mini-turning tool has a flush-fit comfort grip handle. The handle is approx. 9-1/8 inches long.
Moreover, the handle has a heavy-duty steel ferrule for additional strength and support. The steel ferrule is riveted to the handle. Whereas, each turning tool steel bar is approx. 3-3/4 inches in length.
Overall, the set includes 1 ea. round tool, 1 ea. square tool, 1 ea. diamond-shaped tool, 2 ea. round carbide cutters, 2 ea. square carbide cutters, 2 ea. diamond-shaped carbide cutters, 5 ea. screws (for securing cutters) and 2 ea. hex key wrenches. The tools are really easy to use and capable.
Also included, there is a thick, heavy-duty carrying case with a removable foam tray liner. The tray is pre-cut so the turning tools neatly fit into the tray to keep them from sliding around. Likewise, the set comes with basic carbide turning tool instructions. Thus, it is now possible to get consistent, high-quality cuts in no time.
Carbide Tipped Woodturning Tools Buying Guide:
You need to consider some rudimentary factors before buying carbide woodturning tools. It is vital to get the best tools to get your job done. Therefore, basic woodturning tools are ideal for any professional. Let us have a look at some of these important factors;
1. Material
The right tools make your job much easier and outstanding. So, you need quality tools to get the task done. A quality-based lathe turning tool is therefore a must. You can make multiple wooded patterns with the right tool.
If you rely on inferior tools, you cannot get the best results. So, always try to purchase a high-quality tool that offers durability and longevity. The woodturning tools made of stainless steel and pure aluminum are highly recommended.
2. Multiple Heads
If you want to create some professional designs, multi-headed turning tools would do the job. Though they might be expensive but easily meet your work requirements. Thus, try to get the ones with multiple heads.
3. Quality Grip
The tools with good grip and a great holding capacity are ideal. This is how; you would be able to get better designs. This is how you would be able to get the best results. So, try to purchase tools that offer quality hold and grip.
Frequently Asked Questions (Carbide Woodturning Tools):
Who makes the best wood-turning tools?
Some of the best woodturning tools are offered by the following brands and the top set are;
1. Robert Sorby
2. Savannah
3. Crown
4. PSI Woodworking
5. Easy Wood
Which is better HSS or carbide?
Well, the carbide steel comes with a much higher cutting speed. It is 4-7 times higher than high-speed steel. When it comes to carbides, they are harder and more durable. It provides faster cutter data than any standard high-speed steel cutter. For low-volume applications, you may go for HSS tools since they are cheaper than carbide tools.
What is the hardest cutting tool material?
Well, as far as the hardest cutting tool material is concerned, diamond is the hardest material known. It can only be used up to 600 degrees and is not used to machine steel.
Why do woodturning tools have long handles?
The long handles allow one to comfortably hold and use the lathe tools. Moreover, they ensure safety and proper use. Therefore, the woodturning tools come with longer handles. On the top, the lather operator gets the chance to securely hold the tool.
Conclusion
Thus, get your best carbide-tipped woodturning tools now. They allow one to reach a more reliable way of shaping tools. The tools will immediately work for you meeting all your requirements. Carbide woodturning tools are all you need.
There are no better alternative approaches to carbide woodturning tools. The above-mentioned tools would work well for you. on a final note, you won't regret buying these magical carbide woodturning tools.