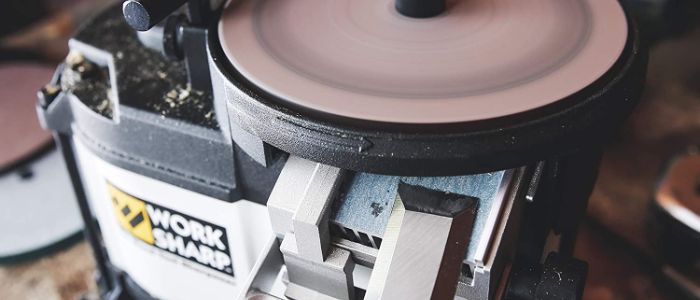 A bench grinder is a tool needed at the workshop. You may often require it to sharpen your tools, such as chisels and tool bits. However, the best bench grinder for sharpening chisels is versatile and has many uses. Sometimes, you can also use them to remove material, paint, and even re-shape metals.
The bench grinder is necessarily required for honing woodturning tools. You can't purchase a new set every time, so they get dull. Therefore, sharpening your tools with the best bench grinder is always recommended.
There are tons of bench grinders available on the market, and they vary in their specifications also. However, it would be best if you decided which of the bench grinders meets your requirements.
Woodworkers engaging in heavy projects should go for heavy-duty bench grinders. Likewise, there are some other features also which may or may not meet your needs. So, the best bench grinder for sharpening chisels suits explicitly your work.
Best Bench Grinder For Sharpening Chisels
You May Also Like the following:
Best Chisel Sharpening Machine
Bench Grinder Chisel Sharpening Jig
This bench grinder from work sharp is easy to operate and has a powerful 1/5 HP motor that is ideal for heavy-duty grinding. It runs at 580 rpm to remove material at high speed. Likewise, it has a routed airflow and a unique heat-sink design to keep your tools from overheating.
On the top, it offers three ways to sharpen your tools, i.e., the Top Side with Tool Rest, the Chisel and Plane Iron Port, and the Edge-Vision Port. With this, you can sharpen chisel and plane blades up to 2″ wide to a perfect 20°, 25°, 30°, or 35° bevel angle.
Likewise, an even faster re-honing allows you to sharpen a perfect 5° micro-bevel. You can sharpen carving tools, lathe tools, scrapers, and putty knives. Also, it comes with two tempered 2-sided glass wheels and one slotted adhesive-backed abrasive. As a result, you can quickly change between coarse and fine grits.
For a more comprehensive grit selection, it uses 150mm premium Norton and Micro-Mesh abrasives in grits of P120, P400, P1000, and 3600. The setup is easy, and one can begin sharpening within 10 minutes. Overall, it is well worth the purchase.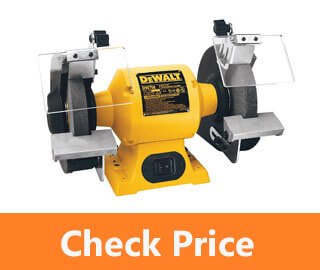 Here is another excellent bench grinder that comes with 8-inches diameter grinding wheels. It allows you to sharpen a lot of blades before replacing the wheel. It is also equipped with clear eye shields over both wheels for your protection.
Thanks to its adjustable aluminum tool rest, you can position the tool you sharpen at the right angle. It uses a powerful ¾ hp motor to provide superior power for industrial grinding applications.
Likewise, it contains a rugged cast iron base that provides durability and prolonged life. The motor also runs at 3,600 rpm, which is ideal for high-speed material removal. On the top, the precision-machined aluminum tool rests allow users to position work accurately.
On the other hand, the tool-free adjustable guard provides quick guard installation and adjustments. This is an excellent unit with all the must-have features. The rear exhaust ports in wheel guards are ideal for smoother operation. Likewise, the 12-1/2-inch distance between wheels makes it ideal for more extensive and longer grinding applications.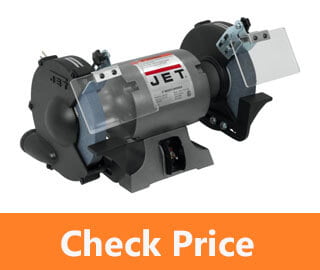 Jet 577102 JBG-8B is made of solid material that makes it durable and rigid while you work. It is built for durability and is equipped with cast iron wheel guards and dust vents. Likewise, the grinder features rubber mounts that prevent movement.
One can easily do the sharpening job without facing any vibrations. It contains fine and coarse vitrified grinding wheels for a faster sharpening job. Therefore, this unit is perfect for honing activities.
One hp motor is perfect for cleaning, sharpening, buffing, removing rust, or removing burs from metal. The grinder has 36- and 60-inch wheel grits for maximum versatility. On top of all, the manufacturers have followed strict guidelines and electrical requirements to meet CSA safety standards.
The motor runs at 3,450 rpm and delivers plenty of power to remove materials. The jet 577102 features enclosed pre-lubricated ball bearings, one-piece quick-adjusting spark guards, and large eye shields with quick adjustment for maximum safety.
Best Bench Griner For Woodworking Tools Guide
There are tons of bench grinders available on the market today. This makes it difficult for the buyer to select one final grinder for them. People who already have experience in purchasing bench grinders can easily conclude.
However, if you make your first purchase, it is vital to know how suitable the grinder is for the task. To solve your problem, we have this comprehensive buyer's guide to help you. Keeping these considerations in mind, you can now get the best bench grinder for sharpening chisels.
1. Revolutions per minute (RPM)
The rpm is one of the most basic features you need to consider. This determines the grinding speed. If you purchase the grinder for heavy-duty tasks, you need to have a grinder with high rpm. On the other hand, the bench grinder with low rpm would go fin for slow grinding tasks. Therefore, you need to decide upon this feature before the final purchase. Generally, the rpm ranges between 2000 RPM to 3000 RPM.
2. Horse Power and Size
This is another feature that is necessary to check for. It tells you about the motor power. The higher the motor, the more powerful it is to perform the tasks efficiently and effectively. The motor power is shown in amperes. Thus, go for the bench grinder with a higher power rating if you are involved in heavy-duty tasks.
Another important consideration is the size of the bench grinder. For example, you have low storage space and need the grinder for small sharpening needs. Then, it would be best if you went for a small-sized grinder. This would efficiently do the job. The wheel size is also essential to be considered. If you purchase the grinder for woodworking tasks, then 8″ wheels would be perfect.
3. Durability and Longevity
The quality and the material of the grinder determine its durability. Nobody wants to invest in something of inferior quality. Therefore, don't spend your money on something temporary; purchase the most durable bench grinder.
Bench grinders that have a cast iron base are not only durable but also stable. Likewise, you can also trust the warranty period of the product. The higher the extended warranty period, the longer the tool will last.
FAQs (The Best Bench Grinder for Sharpening Chisels):
Should I get a 6-inch or 8-inch bench grinder?
You can go for a 6-inch grinder as a newbie or a DIYer. However, if you are a professional, you should purchase an 8-inch bench grinder. This provides enough power to grind and sharpen a wide variety of tools.
What is a bench grinder used for?
The bench grinders are ideal for shaping, re-shaping, sharpening, or even polishing various tools.
What does the number of grinding wheels represent?
Well, the number of the grinding wheel tells you how efficient it is. For example, 36-grit wheels remove material faster. On the other hand, to get fine sharpening, you need to go for a 100-grit wheel.
Conclusion
The application of the bench grinders is the same but differs in terms of their features and performance. They vary in terms of the features such as wheel size, motor speed, horsepower, etc., so the best bench grinder is subjective. Your best might not be everybody else's best.