Best Professional & Portable Router Tables Reviewed 2021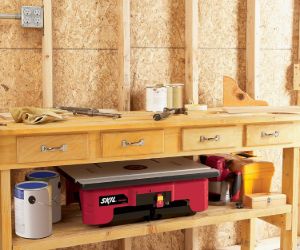 Choosing the best router table is not an easy task when there is a wide variety of them available on the market. Things like design, features, and overall quality matter when it comes to getting the right and the best router table.
The performance of the table router is dependent on its material. You need a table with a perfect solid base to avoid frequent vibrations. This is how your job becomes easier and more perfect. the router table is one of the most useful items that can be added to your woodworking tools. the best router table is ideal for providing ease and control.
The needs are different however one needs to get the best working router table. That is why we did research thoroughly after which we came with a list of some of the best router tables. All the router tables on the list are simply terrific and are an incredible bang for your buck.
Best Router Table For The Money 2021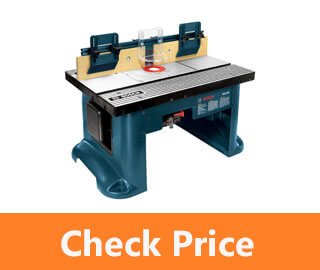 Here comes this amazing router table with a perfect operating height. The bosch's top is metal which makes it a terrific choice. You can use it at home because it is both portable and durable. The solid top is ideal for extended work area, durability, and precision.
You would love its compatibility with almost all routers. Similarly, the aluminum fence is another plus point with a work surface of 27" x 18", this is the best router table for all professionals. The rigid aluminum mounting plate is pre-drilled for compatibility with a variety of routers and above-table height adjustment.
Similarly, the aluminum fence 4 7/8 inches tall and 25 1/8 in length that makes it pretty ideal for large stock. With this table, you get two adjustable feather boards with a dual outlet switch along with a dust collection port. Likewise, there is a 6ft power cord also.
The router table is easy to use and has been designed in a way to provide you all the ease. Thus, it is just very easy now to mount or dismount your routers and adjusts the fence, etc. Shortly, it is great for you as it comes with an accessory slot that accepts feather boards and 3/4 inch optional accessories such as a miter gauge. Shortly, the storage pocket is just superb about this router table. One can easily store router accessories in it.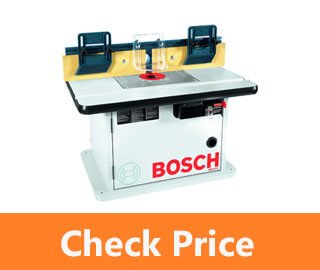 The Bosch RA1171 is another benchtop that comes with all the excellent features. It weighs a bit more compared to RA1181 but is the same size. This table features the same aluminum fence with adjustable MDF faceplates. This makes the routing smoother. Likewise, there are two feather boards with the table.
Bosch is a cabinet-style router table that features dust ports and a dual outlet switch. The dust ports are for convenience to keep the work area clean. Thus you can various routers from various brands with their useful accessories. The overall aluminum fence measures measuring 4 7/8 inch x 25 1/8 inches to handle tall stock with ease.
Furthermore, the aluminum router mounting plate stays flat and this is how you can do the job with full precision and accuracy. The Bosch RA1171 is also predrilled which makes it versatile and it fits a variety of routers.
The router table is thus easy to use and provides full protection against kickback. Likewise, the table features a 6 feet power cord, benchtop router table, aluminum router mounting plate, 3x mounting plate rings, mounting hardware, 2x adjustable feather boards, adjustable clear guard, starter pin and guard, and 2x outfeed fence shims overall.
This is the router table packed with some really impressive features. It is affordable and effectively meets all your expectations. The router table comes in two containers and includes a quick clamp system. The accessory storage containers are best as they protect and store accessories with a router table.
Furthermore, two feather-boards help guide work-piece for more accurate routing. Similarly, the bit height gauge helps simplify set-up and improves the accuracy of cuts. One can work with full precision and ease. The starter pin and guard help support the workpiece when routing curved edges.
The surface of the router table is not very big but is enough to do the job. Moreover, the Router mounting with easy bit changes, and no leveling required. Hence, it is a nice router table with all the essential features and is worth the money.
Dremel 231 is an excellent tool for the modeler enabling you to rebate and bead and several other tasks. This router table is all about versatility. Thus you can convert your Dremel corded & cordless rotary tool into a light-duty, bench-mounted precision wood shaper with the router table attachment.
Furthermore, this Compact router table makes it easy to the slot, edge, groove, and/or sand items in both conventional and irregular shapes. This easily mounts to any tabletop workspace. Similarly, the router table features an adjustable fence and a large 8×6 inch worktable to support light-duty projects and precision work.
Thus, this is a great router table because it is compact and easy to store. The features are compatible with Dremel 8220 cordless rotary tool and for use with corded models 100, 200, 3000, 4000, 4200, and 4300. It is exactly worth the money and is an ideal router table for all.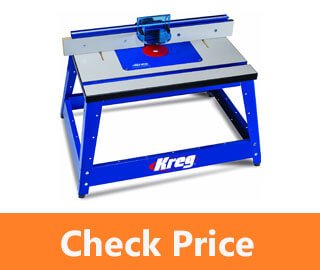 This is a benchtop router table that is designed to stay stable and make your job easier. The router table comes with a steel-made frame and an incredible MDF tabletop. This is the best Industrial-quality fence containing adjustable faces, dust collection, vertical jointing, and new cam clamps.
Other than this, the table features a vacuum shroud and dust port. The port makes it easy to work in a clean area. The overall table is made from steel that adds to its strength and durability. Likewise, the rubber feet make it solid and stable. The user doesn't have to face any vibrations while working.
Moreover, the Full-size router inserts plate with precision plate levelers and new Level-Loc reducing rings. This is an extra-large MDF tabletop with an easy-slide surface. It also features a wide stance heavy-duty steel stand that increases its stability. Overall, the set includes an MDF top, a full-size insert place with 3 Level-Loc rings, insert plate levelers, an extruded aluminum fence, and a heavy-duty steel stand.
Things To Consider in a Router Table Buyer's Guide:
To purchase the right router table combo, it is very necessary to consider the below-mentioned points. These are some of the basic features needed in a router table. This would not improve the versatility of the router but would make your job much perfect. Let's have a look at some of these features now; so, if you are getting the router table as a professional or a hobbyist, this article would help you in choosing the best router table;
1. Portability
Portability is an important factor to consider when buying a router table. It is you who will decide where to keep the table. If you intend to place it somewhere in the workshop or garage, you should not go for a portable table. On the contrary, if you prefer portability, then router tables withstand with wheels are available on the market.
2. Base Size and Features
Well, size is another important thing you need to consider. You need to look for the table that best matches your requirements. If you are working with large-sized pieces, you definitely can't afford to go for a small router table. Moreover, the base's features are another important thing. The table should come with perfect and high-quality fences and T-slots etc.
3. Surface of the table
The table's surface is also an important consideration. There are various materials used for the surface of the table. Mostly, the router tables come with surfaces made of cast iron, aluminum, phenolic, and MDF (Medium Density Fiberboard.
If you are a professional, you should go for a table with a cast iron top. Though they are a bit expensive but are exactly worth it. The tabletop with an aluminum surface comes on second. You can use them quite often and are durable as well. Phenolic also is an interesting material but is a bit expensive. Lastly, the Tabletop with an MDF surface is also an excellent option. They are stable and come with vibrations absorbing quality. So, you can also go for such tabletops.
4. Dust Collection Feature
You need a proper way to manage all the dust created by the woodwork. The dust should be managed and get rid of to keep the work area clean. This is how; one would be able to work in a clean environment to get the job perfectly done. So, always go for the router table that comes with dust ports.
5. Fence
The fence helps one manage their work with full precision. That is why it is always important to consider the type of fence that the router table features. So, the fence should be easily adjustable. You may also choose between a one-piece and two-pieces fence. It depends on how much control do you prefer whilst handling boards.
How to use Router Table
Best Router Table FAQS:
What is the best router table for the money?
There are many router tables available on the market today. Likewise, the quality and features matter when you get the best router table. However, there are some of the best router tables that one can purchase;
1. Bosch RA1181 Benchtop Router Table
2. Skil RAS900 Router Table
3. Craftsman 37599 Router Table
4. MLCS 2394 Extension Router Table Top & Fence.
5. Kreg PRS2100 Bench Top Router Table

How thick should a router table be?
Well, to perform your woodwork job the router table must be thick enough to handle the job easily. Generally, a good tabletop should be sturdy and should range from 1-1/8" to 1-1/2. The router table with a thick top actually stays stable and doesn't sag.
Is a router table worth it?
A router table is actually a great tool for professionals and others. Make sure you don't it for minor jobs like trimming and cutting edges.
Do I need a router table?
Yes, it is necessary to purchase a router table if you want to get the most out of it. The router table will be beneficial when it comes to grooving and customizations. The router table would take your woodworking to the next level.
Conclusion
Thus, it is now easier to get the right router table. The best router table would help you in doing your woodworking job with full precision. Moreover, they help in creating précised cuts. Thus, do your woodworking job with much efficiency and perfection. So, upgrade your setup now and get the best router table for you now.